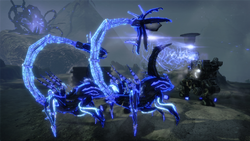 Whilst Trenched players continue battling Monovision Creatures in a fictional world, Double Fine and Microsoft are battling Portuguese board game maker Rui Alípio Monteiro over the trademark of Trenched in Europe. Monteiro stated that he's planning on fighting Microsoft over the matter, which may not be a wise choice, given Microsoft's reputation.
Monteiro's statement is quite long, so if you aren't planning on reading it through completely, here are some highlights:
"Always bearing the international market in mind, and after legal advice, Rui Alípio Monteiro registered the brand both in Portugal and internationally. In September 2009, he was granted the Trademark Registration Certificate for Trench nº 007508501 in the European Union. On 18th June 2010 he applied for the Trademark Registration of Trench in the USA, whose registration was granted on the 15th March 2011 under the Register nº 85066103."
"He also owns the international Certificates regarding the visual aspect of the game and components. Although the original idea was to produce a board game, he has also registered the trademark for electronic Games, since part of Rui Alípio Monteiro's global project is to turn Trench into an appealing electronic game, already in the development phase."
If Monteiro's lawsuit will be successful, it would mean that Microsoft and Double Fine will have to entirely re-brand Trenched in Europe. Players probably won't notice, but this might cost Microsoft millions of dollars.
What do you think, will Monteiro stand a chance against Microsoft? Leave your opinion in the comments!
---
Source: Giantbomb
Community content is available under
CC-BY-SA
unless otherwise noted.